Nattflygplanet till Stralsund kraschade mot ett berg nära Waldemarsvik.
The Stockholm-Stralsund night fligth hit a mountain near Waldemarsvik.
Använd etikett (Used label)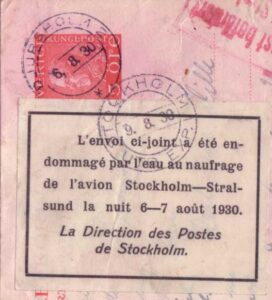 Använd svensk etikett med fransk text.
Used Swedish label with text in French.
N300806a
Etikett (vit) med text på franska:
Bifogade försändelse har skadats av vatten vid flyghaveri Stockholm-Stralsund natten 6-7 augusti 1930.
Postdirektionen i Stockholm
Label in white with the text in French:
Attached letter has been damaged by water at an air crash of Stockholm-Stralsund on the night 6-7 August 1930
Teh direction fo the Stockholm Post.
Ref.:
Lüning
Nierinck