SAS-planet Anund Viking fattade eld efter en explosion i en motor vid starten från Rom.
When taking of from Rome the SAS Anund Viking caught fire due to en explosion of an engine.
Använda följebrev och stämpel.
(Used special notes and cachet.)
N19700419a
På post till Sverige. Used on mail to Sweden.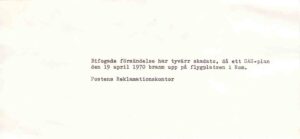 Använd svensk etikett.
Used Swedish label.
Etikett (vit) med texten:
Bifogade försändelse har tyvärr skadats, då ett SAS-plan
den 19 april 1970 brann upp på flygplatsen i Rom
Postens Reklamationskontor
Label in white with the text:
Enclosed sending has unfortunately been damaged, when a SAS-aricraft
on 19th April 1970 was destroyed by fire at the airport of Rome.
Post Office inquiry department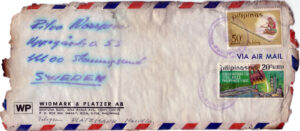 Brandskadat brev till Sverige.
Cover to Sweden damaged by fire.
N19700419b
På post till USA. Used on mail for USA.

.
N19700419c
För post till Schweiz. Mail for Switzerland.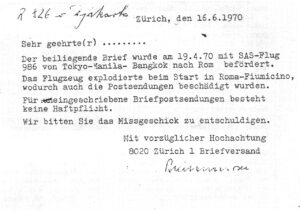 .
Bifogat brev överlämnades den 19.4.70 av SAS flight 986 från Tokyo-Manilla-Bangkok till Rom. Planet exploderade när det startade vid Rom-Fiumicino och posten skadades delvis. För oregistrerade brev tas inget ansvar. Ber om ursäkt för olyckshändelsen.
Enclosed letter was forwarded on the 19.4.70 by the SAS flight 986 from Tokyo-Manilla-Bangkok to Rome. The plane exploded when taking off att Rome-Fiumicino and postal sendings were partly damaged. For not registered sendings there is no responsabiity. ccept the apologize for the mishap.
N19700419d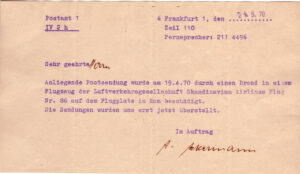 Följebrev för post till Tyskland.
Speceial note for mail to Germany.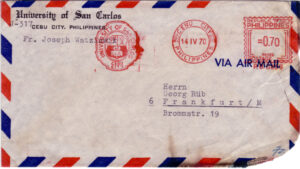 Skadat brev till Tyskland.
Damaged cover to Germany.
Ref.:
Nierinck, Henri L.; Recovered Mail 1910-1936 & Recovered Mail 1937-1988
Lüning, Örjan; Luftposten historia i Norden, The History of Airmail in Scandinavia