(Mail train Gothenburg Stockholm)
Brand uppstod i järnvägsvagnen vid Södertälje orsakat av ett elektriskt element.
An electric element in the railway car caused a fire to broke out at Södertälje.
Använd etikett (Föjebrev) Used label (Enclosed Message)
SE19690122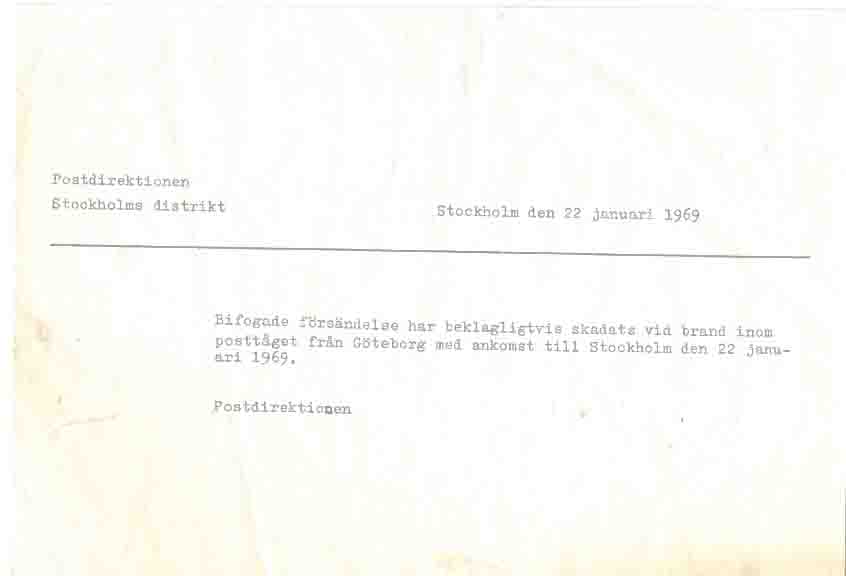 Bifogat meddelande. (Bilden har behandlats i Photoshop för att göra texten mer läslig)
Enclosed message. (The picture has been enhanced in Photohop to make the text more readable)
Etikett (vit) med texten:
Postdirektionen
Stockholms distrikt Stockholm den 22 januari 1969
Bifogad försändelse har beklagligvis skadats vid brand inom
posttåget från Göteborg med ankomst till Stockholm den 22 janu-
ari 1969.
Postdirektionen
Label in white with the text:
Enclosed consignment has to our regret been damaged by fire within
mail train from gothenburg to Stockholm with arrival 22 Janu-
ary 1969.
Ref.:
Gwynn, Robin & Hoggarth, Norman; Railway Disaster Mail, Stuart Rossiter Trust 2010
Dagens Nyheter, 23 Januari 1969
Göteborgs-Posten, 23 Januari 1969