SS Hansa torpederades av den Sovjetiska ubåten L-21. Bara två personer överlevde, 84 dog.
SS Hansa was torpedoed by the Russian submarine L-21. Only two persons survived, 84 lost their lives.
Noteringar (Used notes)
SE1944-11-24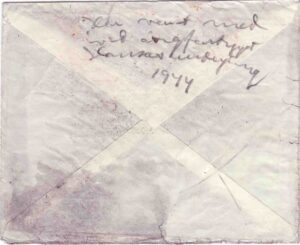 Brev med handskriven notering på baksidan av brev från Hansa.
Cover with a handwritten note on the back from Hansa.
Handskriven notering med texten:
Har varit med
vid ångfartygets
Hansas undergång
1944
Flera brev existerar, bland annat på Postmuseum med denna notering. Noteringarna har med största sannolikhet tillkommit efter att brevn delats ut.
Webmaster har också sett ett kort med maskinskriven notering.
Handwritten note with the text:
Has been with
steamer
Hansa's going down
1944
Several covers exist with this manuscript mariking, the Postal Museum has two. This marikings have most probably been added after the delivery of the letters.
The Webmaster has also seen a post card with a notation made by at typewriter.
Ref.:
Zetterman, Gunnar, Hansakatastrofen, MPT Nr 90 2021
Zetterman, Gunnar, War Time Sinking of SS Hansa, La Catastrophe, Vol 11 p 34