Brand uppstod i järnvägsvagnen orsakat av ett elektriskt element.
An electric element in the railway car caused the fire.
Använd etikett (Used label)
SE19531230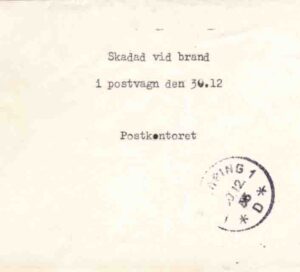 Etikett från postkontoret i Linköping
Label from the Post Office in Linköing
Etikett (vit) med texten:
Skadad vid brand
i postvagn den 30.12
Postkontoret
Label in white with the text:
Damaged by fire
in a railway car 30.12
The Post Office
Kommentarer
Årtalet i stämpelns datum är felaktigt satt till 56.
The date in the cancellation is wrongly set to 56.
Ref.:
Gwynn, Robin & Hoggarth, Norman; Railway Disaster Mail, Stuart Rossiter Trust 2010
Zetterman, Gunnar; När nyårsposten brann upp, Filatelisten: Svensk Filatelistisk Tidskrift 2004 (Nr 7), s. 308